There are four study areas for the RECONNECT Citizen Science project.

In Cavo Greco area (Cyprus), 3 pilot stations were chosen, where permanent quadrats have been placed in meadows and rocks .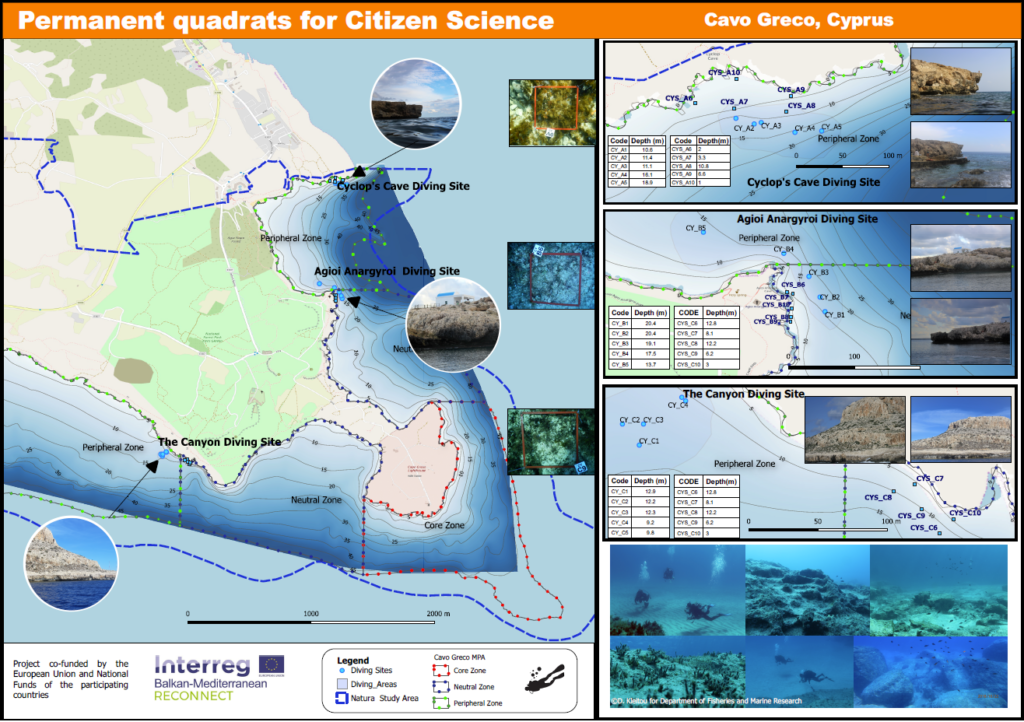 Each pilot station has 10 permanent quadrats. Submerged buoys have been attached to the quadrats, rising 1-2 m from the seafloor to mark the quadrats locations, as well as identification labels.
Pilot stations in Cyprus:
Ag. Anargyroi (Chapel):
The site is located near Cavo Greco, just in front of the chapel of Ag. Anargyroi.
The depths are between 0-30 meters.
The substrate is mostly rocky, it alternates with large meadows of Posidonia oceanica.
Entering the water (with caution because in some places there are rough and slippery rocks), depths starts at 7 meters.
Cyclopes cave:
The area is accessible both by land and sea.
The depths of the route are between 0-25 meters.
The substrate is mostly rocky.
Entering the water, the substrate is initially rocky for about 50 meters (southeast), reaching 5 meters depth, having the land on our left.
Canyon:
Situated at the south side of Cape Greco just under the cliffs, access is from the shore.
Maximum depth is 18 meters.